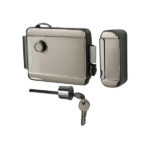 ST-RL073SI-NK
The ST-RL073SI-NK lock is designed to lock doors, gates, gates and can be used in conjunction with access control systems (controllers, intercoms, code panels). The lock is controlled either electrically or mechanically. Remotely unlocking the ST-RL073SI-NK requires a short voltage supply. The lock can be opened with a key from the outside or a button from the inside.
Description
The presence of anti-squeeze lock
The design of the ST-RL073SI-NK electromechanical lock includes a solenoid that controls the platoon and locking crossbars. At the same time, the locking bolt has a function against squeezing the lock in the closed state of the lock.
• Electric control
• Mechanical control
• Suitable for doors of all types of opening
• Adjustable crossbar spring
• Made of steel (stainless or nickel-plated steel)
• Internal elements are protected by a special coating
• MTBF of 500,000 cycles