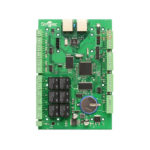 ST-NC441
The new-generation ST-NC441 controller is designed to build network access control systems based on Timex software. In the absence of a permanent connection to the server, the system continues to perform its functions offline, with complete maintenance of operability. 2 Ethernet ports and 4 ports for connecting the readers.
The controller has 2 Ethernet ports operating in repeater mode, allowing you to use the second port to connect new controllers to simplify installation. 4 control ports are designed to connect readers with Wiegand 26 or Wiegand 34 or Wiegand 26-64 custom interfaces.
Programmable inputs / outputs
The controller has freely programmable inputs and outputs that can be configured to control standard devices (output buttons, door position sensors, electromagnetic locks), to control any other devices (burglar alarm sensors) or to control any devices in manual or automatic mode.
• Support 4 doors or 2 turnstiles
• Wiegand26, Wiegand34 or Wiegand 26-64 reader support
• Identification methods: card, code, card and code, card or code
• 2 Ethernet ports, working in repeater mode
• Regime support: gate, lift, repeated pass ban
• Freely programmable inputs / outputs
• 12 controlled inputs
• 6 exits