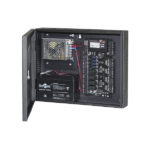 ST-NC440B
The ST-NC440B controller is designed to build a modern and economical network access control system based on Timex software. When using an Ethernet network, such a system has no restrictions on the number of controllers, and when using RS-485, up to 63 devices can be combined on one branch.
The ability to operate autonomously
In the absence of a permanent connection to the server, the controller can perform its functions offline, according to the parameters programmed in the non-volatile memory. The presence of extended memory allows the device to store up to 100,000 events when working in this mode.
Compatible with readers
This network controller is compatible with any reader because it accepts their connection through the Wiegand interface. In addition, the controller has additional inputs / outputs for monitoring, for example, burglar alarm sensors or to control any device manually or automatically.
• Support for readers connected via Wiegand 26
• Identification types: card, card and code, card or code
• Use of various hardware protections of the controller
• Additional inputs / outputs for peripheral connection
• How to unlock the first card
• Supports the local transit ban
• Gateway module
• How to access multiple books (N person rule)
• Support for coercion code