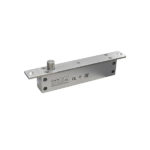 ST-DB510MLT
The ST-DB510MLT electromechanical solenoid lock is designed to operate as part of access control systems with electronic door lock control. ST-DB510MLT is a normally open lock, i.e. it unlocks when the power is turned off and locks when available. To monitor the position of the door leaf in the access control system, you can use the corresponding output of the lock.
Description
Installation on any type of door
ST-DB510MLT is a universal lock that can be used with any type of door: opening inward, opening outward and swinging. The one-piece crossbar made of stainless steel with a diameter of 12.6 mm provides high resistance to sawing.
• Holding force 1000 kg
• LED indication
• Low power and heat dissipation
• Normally open
• Adjustable Lock Closing Timer
• Door leaf position monitoring line output
• One-piece crossbar with a diameter of 12.6 mm from stainless steel
• Possibility of use with swing doors
• MTBF of 500,000 cycles