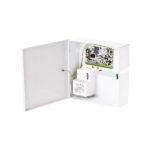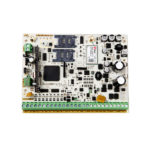 ESIM384
The ESIM384 Hybrid Security System is the flagship of all Eldes products. It was created for the professional protection of large premises, houses and cottages with an area of up to 1000 and more square meters. ESIM384 is not only a security system but also a controller for automating your home. In addition, the system supports up to 4 Dahua IP cameras, which allows you not only to secure your property but also to monitor the protected premises using the free Eldes Security mobile app!
Description
Specifications:
Description
What is ESIM384? – This is a professional security and comfort management system for your home. The solution consists of a central controller (ESIM384), a mobile application, as well as various sensors and accessories.

• Powerful and Reliable radio channel – A completely new generation of wireless devices ELDES WIRELESS PRO with a range of up to 3000 meters in open space. The excellent cross-country ability of the signal allows you to install equipment on objects even with thick walls up to 300 m.
• Protecting the house from burglars – In the event of a break-in, one of the sensors will send an alarm to the alarm panel, which will turn on the siren and send a message to the user and / or the security company. With the ESIM384 alarm system, your home is always under reliable protection.
• Protection against fire, flooding and carbon monoxide – Special sensors monitor the house around the clock and, in the event of an emergency, will immediately notify you on your mobile phone and will automatically send a message to the emergency services.
• Smart home – comfort and coziness – Control the alarm, heating, lighting and garage doors in the house with one system. Any household appliances will turn on according to a pre-configured schedule.
• Heating control – Sensors monitor the temperature in the house and send information to the controller, which starts ventilation, heating and air conditioning to maintain your chosen temperature. You can set a timer for underfloor heating, heaters and air conditioning. They will work according to your schedule.
• Simple and convenient control – Arming and disarming, as well as controlling heating and household appliances is very simple – you can use mobile applications, a WEB-cabinet, as well as keyboards or a wireless key fob for this.
• The highest level of quality and reliability – ESIM384 is a completely new premium system. Unlike cheaper security systems, it is assembled from expensive components, using special materials and high-precision modern technologies.
• Reliable jamming and burglary protection – Wireless devices operate in an encrypted two-way radio channel, which eliminates hacking and device spoofing. In case of attempts to jam sensors or a GSM network, you will be instantly notified about this.
Eldes Utility software – A completely new multi-platform software for configuration via USB and the Internet. Interface optimization has reduced setup time by an average of 50%. You can install the software on a PC with Windows, iOS, as well as on Android tablets and phones.
• Up to 64 wireless zones (new WIRELESS PRO radio channel with a range of up to 3 km)
• Up to 48 wired zones
• Easy setup via the Internet
• Integration with IP video cameras
• Applications for iOS and Android
• Up to 8 temperature sensors
• Compatible with any monitoring station
• Automatic firmware update via the Internet
• Supply voltage – 16-24V 50/60 Hz ~ 1.5A max. / 18-24V 1.5A max
• Recommended backup battery type – 12V; 1.3-7Ah
• Operating time from a reserve battery up to 30 hours for a 7Ah battery
• GSM module 850/900/1800/1900 MHz
• SIM card type SIM × 2
• Wired zones – 8 (in ATZ mode: 16)
• Outputs (O.K.) – 4
• The maximum number of zones using 2xEPGM1 is 16 + 16
• Maximum number of PGM Outputs using 2xEPGM1 + EPGM8 – 2 + 2 + 8
• The maximum number of wireless zones – 128
• The maximum number of wireless devices – 64
• The total maximum number of zones is 144
• Support for third-party wired smoke detectors – 2-wire and 4-wire smoke detectors
• Max. number of temperature sensors supported – 8
• Wireless frequency – 868 MHz
• Wireless range up to 3000 m in open space
• Transmission channels to the monitoring station SMS, Voice calls, GPRS, CSD, Ethernet via ELAN3-ALARM
• Transmission protocols to monitoring stations Ademco Contact ID, EGR100, Kronos, Cortex SMS, SIA IP
• Dimensions 140x100x18 mm
• Range of working temperatures -20 … +55°C
• Permissible humidity level 0-90% RH @ 0 … +40°C